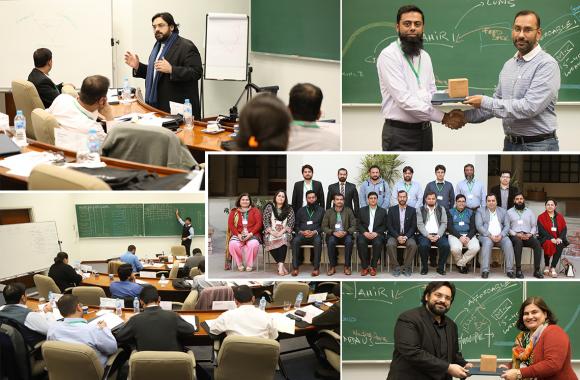 The Social Enterprise Development Centre (SEDC) at the Suleman Dawood School of Business (SDSB), LUMS organised the second cohort of a customised training programme titled, 'Human Capacity Building: Understanding Communication, Leadership, and Teamwork' for the senior management of the Marie Stopes Society (MSS) from December 17 to 20, 2018.
The Marie Stopes Society is a social enterprise that provides comprehensive reproductive health services for people across Pakistan. Their aim, ultimately, is to increase access to reproductive health information and services that empower women, men, young people and families to lead healthier lives. A global partner of Marie Stopes International – one of the largest voluntary family planning providers worldwide – MSS provides a full range of reproductive health services, including information, counselling, family planning services, maternal and child healthcare and facilitating couples in the healthy timing and spacing of pregnancies.
The 4-day programme focused on the themes of leadership and teams, among others. It addressed key issues such as the need to build the capacity of MSS staff in the areas of strategic management, team management, negotiation and conflict resolution and effective communications. As the senior management has to deal with a multitude of new pressures, challenges and risks, necessitating them to uphold the high standards of leadership and effective execution of their roles, SEDC's training programme addressed these challenges to promote effective governance.
This training was successfully designed and delivered by SDSB faculty, Dr. Zain-ul-Abdin Khawaja and Dr. Muhammad Abdur Rahman Malik, Programme Director and Co-programme Director, respectively. Moreover, some of the training sessions were also taught by other SDSB faculty including, Dr. Muhammad Adeel Zaffar. The sessions included conflict management in teams, effective leadership skills, team building, decision-making, problem-solving and, strategic and modern communication methods. The training programme was highly appreciated by the top management of Marie Stopes Society, who were also of the view to send the other staff members of MSS for similar trainings at LUMS, in future.