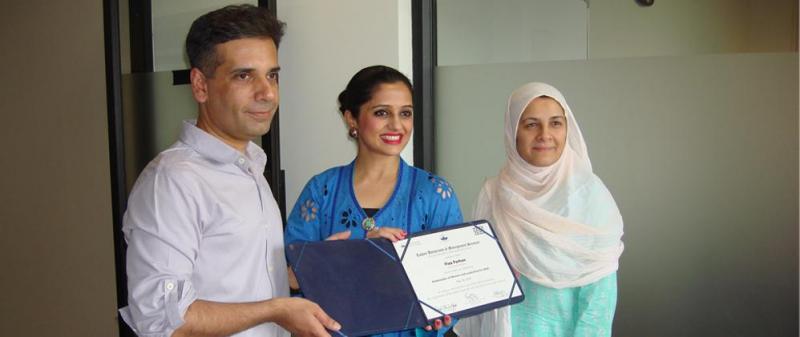 Fiza Farhan, CEO Buksh Foundation and Director Buksh Energy Pvt. Ltd, has become an Honorary Ambassador of Women & Leadership for Social Enterprise Development Centre (SEDC). Dr. Junaid Ashraf, Dean Suleman Dawood School of Business (SDSB) presented her a certificate for this role, in a ceremony held at the Dean's Office.
Ms. Farhan is a social entrepreneur who was listed by Forbes in their list of "30 Under 30 Social Entrepreneurs" for 2015. She is also part of the UN Secretary General's first ever High Level Panel on Women Economic Empowerment. She is known internationally for having pioneered new models of self-reliant solar systems to the residential, commercial, industrial and even off-grid energy markets in Pakistan. She has represented Pakistan's development and energy sector regionally and globally, including the UN Foundation's SE4ALL forum and the Annual Global CSR Summit. She also represents her company and country at the World Energy Council, UN Foundation Practitioners Network, ADB-Asia Clean Energy Forum, Gender and Energy Network.
Ms. Farhan is a LUMS graduate and holds a Master's degree in Entrepreneurship and Business Management from Warwick Business School (WBS), United Kingdom. As SEDC's ambassador of Women and Leadership, Ms. Farhan will champion and help further SEDC's role in working towards gender equality and generating policy research, dialogue and capacity building on policy issues and problems affecting women in Pakistan.