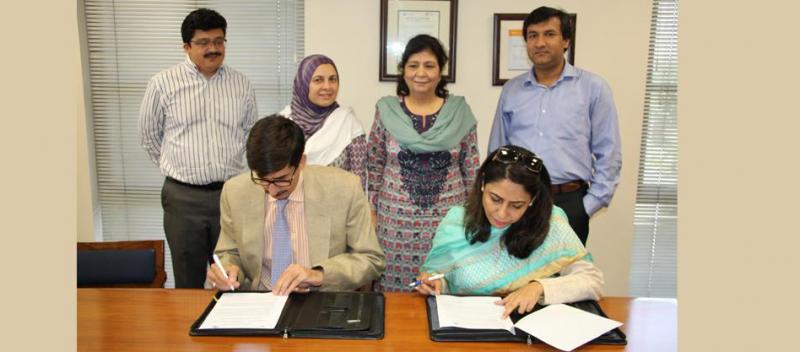 On May 20, 2015, a Memorandum of Understanding (MoU) was signed between the Social Enterprise Development Centre (SEDC) at Lahore University of Management Sciences (LUMS) and the Pakistan Centre for Philanthropy (PCP).
This collaboration between SEDC LUMS and PCP aims at engaging relevant stakeholders to better understand the dynamics of individual, corporate and private sector giving in the country, thereby, contributing towards effective planning, implementation and promotion of philanthropy in Pakistan.
Specifically, the objectives of the project are to:
Organise seminars/workshops/panel discussions on philanthropy in Pakistan
Educate stakeholders (NPOS, academia, public and private sector organisations, media etc)
Provide policy options to decision makers for more effective interventions.
LUMS has established Social Enterprise Development Centre (SEDC) as a scholarship-based research Centre working towards the capacity building of social enterprises in Pakistan. The Centre has successfully developed linkages with more than 500 social sector organisations of Pakistan, which is a unique achievement for any academic institute. The Centre also assists development professionals to network, collaborate and take on policy initiatives jointly. While the PCP is a non-profit organisation striving to enhance the volume and effectiveness of philanthropy in Pakistan. PCP Board comprises eminent citizens, former senior government officials and ministers, representatives from prominent nonprofit organisations and business leaders.
The Pakistan Centre for Philanthropy, under its research programme, generates evidence-based knowledge on various facets of philanthropy in Pakistan to raise societal awareness about the subject. It is the only organisation in the country that works on philanthropy to enhance its volume and effectiveness and advocate it as a supplementary resource that needs to be channelized for social development initiatives in the country. PCP's research studies completed over the years have brought to light the tremendous potential of this indigenous resource in the form of cash, in-kind and voluntary-time giving to others. The findings of research provide useful basis to devise policies and strategies to optimize the utilization and effectiveness of philanthropy.
The ceremony held in VC Office and Dr. Sohail Naqvi, Vice Chancellor LUMS signed the MoU on behalf of LUMS while Ms. Shazia Amjad, Executive Director PCP was the signing authority from PCP. Among those who were present on this occasion were Dr. Ghazal Zulfiqar, Director SEDC and Mohammad Sajjad Haider, Manager SEDC from LUMS and Dr. Naushin Mehmood, Senior Programme Manager, Research Unit, PCP and Ahmad Nadeem, Consultant Communication and Partnerships from PCP.