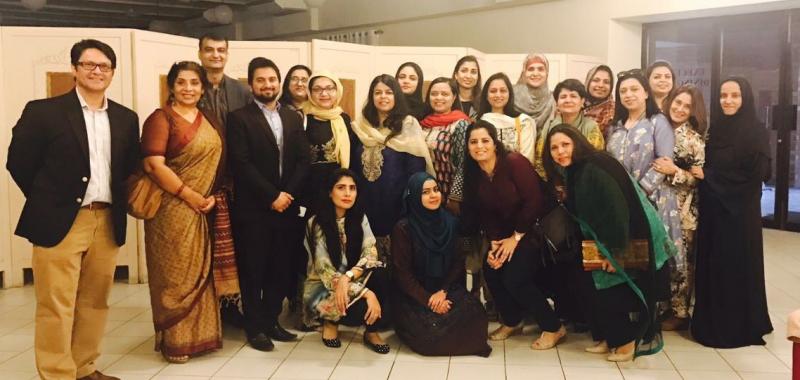 Pakistan Women Entrepreneurship Programme (PWEP) at Social Enterprise Development Centre (SEDC), LUMS, celebrated the upcoming International Women's Day with women entrepreneurs on 7th March 2017. A Hi-Tea was hosted to honor the strong and independent women who have broken barriers and proved themselves as successful entrepreneurs. The event provided a platform for the expansion of women entrepreneurs network by introducing PWEP's Phase-I and Phase-II participants to each other.
Pakistan Women Entrepreneurship Programme (PWEP) is working to increase the capacity of Pakistani women entrepreneurs to create sustainable and scalable businesses. The programme is a joint initiative of the Lahore University of Management Sciences (LUMS) and American University (AU), Washington DC. It is supported by the US Department of State and US Pakistan Women's Council.
The event was attended by Ms. Henna Babar Ali, and Mr. Tanveer Hassan from the US State Department. Senior faculty members from LUMS including Dr. Misbah Tanveer, Dr. Ghazal Mir Zulfiqar, Dr. Naiman Jalil, Prof. Asad A. Alam and Ms. Shezeen Hemani also graced the event.
The participants acknowledged the contributions of SEDC LUMS and American University (AU) to conduct such trainings programmes for the women entrepreneurs of Pakistan. Ms. Mahnaz Husain, a programme participant, advised women entrepreneurs saying,
"Believe in yourself and lift other women up because we are a force to reckon with, if we all become one."