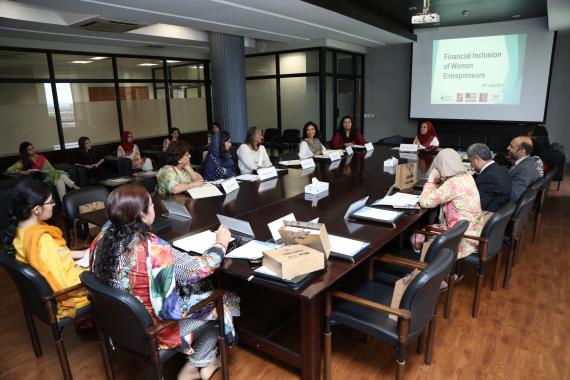 Tuesday, 20th June 2017: Pakistan Women Entrepreneurship Programme (PWEP)* at Social Enterprise Development Centre (SEDC) organized a round table discussion on the Financial Inclusion of Women Entrepreneurs.
The purpose of the event was to disseminate the policy brief, developed as part of the PWEP Programme, and to bring together a group of stake holders to generate discussion, and gather suggestions and recommendations on making financial institutions more inclusive for women.
SEDC Director, Dr. Ghazal Mir Zulfiqar and PWEP Director, Dr. Misbah Tanveer were leading the event. The event started with a welcome address, followed by presentation on the policy brief, and discussion.
The participants included representatives from The State Bank of Pakistan, Punjab Commission on the Status of Women, FINCA, First Women Bank, Allied Bank, Pakistan Microfinance Network, Kashf, Chambers of Commerce and Industry Lahore, Centre for Islamic Finance, and Pakistan Economic Research Institution. The event was also attended by students and faculty from LUMS.
The participants agreed that removing disparities in women's access to financial services is critical for promoting entrepreneurship, gender equality and sustainable growth in the country. They briefed each other about the current policies and practices in their areas of operation for inclusion of women entrepreneurs, and suggested measures on improving the current level of engagement between women and financial institutions.
*Pakistan Women Entrepreneurship Programme (PWEP) is working to increase the capacity of Pakistani women entrepreneurs to create sustainable and scalable businesses. The programme is a joint initiative of the Lahore University of Management Sciences (LUMS) and American University (AU), Washington DC. It is supported by the US Department of State and US Pakistan Women's Council