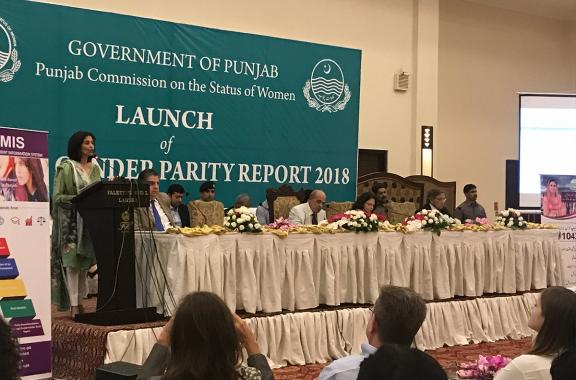 The Punjab Commission on the Status of Women (PCSW) launched the third edition of the Punjab Gender Parity Report (PGPR) 2018 on 30th May 2018 at Falettis Hotel, Lahore. The PGPR is a compilation of key findings across demographics, governance, health, education, economic participation and justice. The objective of the report is to advocate policy formulation and gender sensitive and citizen-responsive budgeting in all sectors based on the data collected. It also provides the status of implementation of the special initiatives taken by the Government of Punjab.
As part of Social Enterprise Development Centre (SEDC), and PCSW collaboration for SEDC Summer Trainee Programme 2018, Dr. Faiza Ali, Director SEDC and Assistant Professor Suleman Dawood School of Business (SDSB), attended the event on invitation. Notable personalities including Malik Muhammad Rafique Rajwana Governor of Punjab, Dr. Aisha Ghaus Pasha Minister of Finance, Ms. Fauzia Viqar Chairperson PCSW, Ms. Roshaneh Zafar Managing Director Kashf Foundation, Dr. Faisal Bari Associate Professor Economics LUMS, Ms. Farida Shaheed Executive Director Shirkat Gah were also part of the event. A number of issues were highlighted in the discussions that ensued. Dr. Faiza highlighted the importance of how part-time work opportunities need to be encouraged and promoted in policy building in Pakistan to enhance the female economic participation in the country. Based on her research, she further discussed the importance of part-time work in developed countries such as UK and Netherlands. The panelists spoke at length regarding active participation of women in the society, transparent mechanisms at workplaces and safe public spaces to facilitate women among other issues.
The report is a comprehensive document that would help the government in formulating targeted policies that address the grave concerns of the people of Pakistan. It will also allow policy makers to identify and address gender related issues and the gaps in implementing policies related to them. This report will also serve as an important resource for the trainees participating in the SEDC Summer Trainee Programme 2018 in collaboration with PCSW.