Friday, November 27, 2015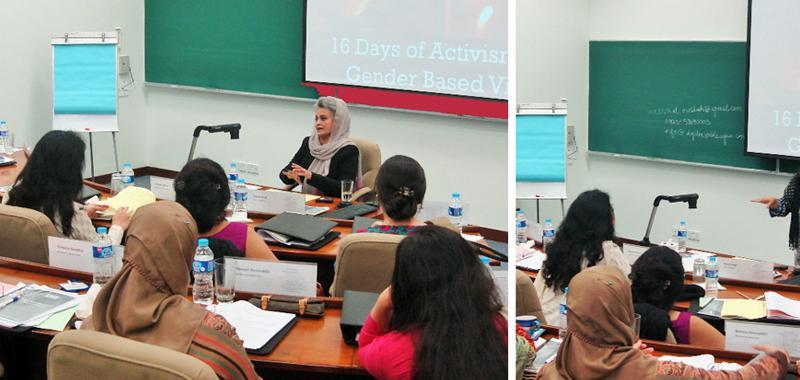 Pakistan Women Entrepreneurship Programme team at the Social Enterprise Development Centre (SEDC) LUMS, supported by the USA State Department, joined hands with the international community against gender based violence. The 16 days of activism, which started on November 25, 2015, aims to galvanise the need to end violence against women and girls around the world.
Ms. Musarrat Misbah, Chairperson Depilex Smile Again Foundation, addressed the women entrepreneurs at the Leadership and Team Building Programme on November 25, 2015. During her conversation with the participants, she shared her life experience of becoming a philanthropist and helping acid attack victims in Pakistan. She highlighted the impact of lack of education and awareness on a society. A participant, Sadia Salman, added that awareness not only for girls, but also for boys is important at schools and work places.
Dr. Misbah Tanveer, Project Director (PWEP), said, "It is only by empowering women economically that we will be able to see a decrease in violence against them."
Naveen Nooruddin, a programme participant, was of the opinion that economic empowerment of women through education, awareness and skill development is the only way forward for our society.
The campaign on 16 days of activism against gender violence will run till December 10, 2015.