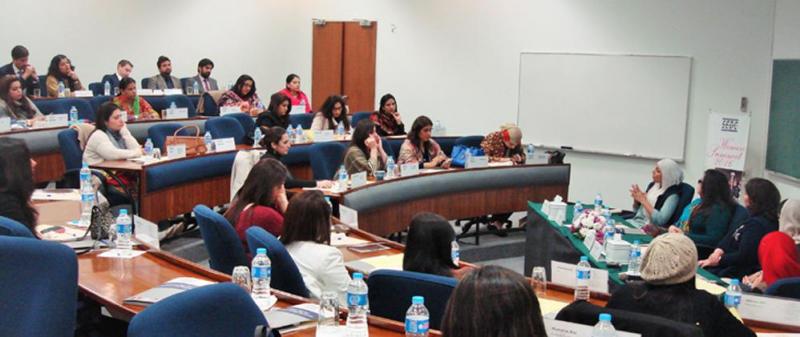 Pakistan Women Entrepreneurship Programme (PWEP) under the umbrella of Social Enterprise Development Centre (SEDC), LUMS, successfully concluded its Phase-I activities with a Women Summit on Friday, January 29, 2016. The summit was organised to celebrate the success and achievements of women entrepreneurs and acknowledge their role in the business environment of Pakistan.
Supported by the US Department of State, the programme is a joint initiative of LUMS and American University (AU). The objective of the programme is to increase the capacity of Pakistani women entrepreneurs to create sustainable and scalable businesses.
The summit was led by Ms. Shezeen Salim Hemani. The event started with an overview of the programme by PWEP Director, Dr. Misbah Tanveer Chaudhry, followed by a panel discussion with the programme participants about their experience of the programme. Director SEDC, Dr. Ghazal Mir Zulfiqar moderated the second panel and discussed issues faced by women entrepreneurs and how they can better integrate themselves in the business environment of Pakistan. The panel consisted of aspiring women like Ms. Maryam Mohiuddin (Director-Social Innovation Lab), Dr. Sara Shahid (Director-Will, Lahore College for Women University), Ms. Sara Shahid (Director Business Planning and Analysis, Telenor) and Ms. Nosheen Mudassir (Head of Systems and Operations, FINCA).
Along with the PWEP participants, the summit was also attended by the LUMS Vice Chancellor, Dr. Sohail Naqvi, and Mr. Tanveer Hassan and Mr. Michael Cognato from the US State Department.
The participants applauded the efforts of LUMS and AU in conducting a programme specifically tailored for their needs and expressed hope that more programmes like this will be conducted to support women entrepreneurship in Pakistan.