Tuesday, December 22, 2015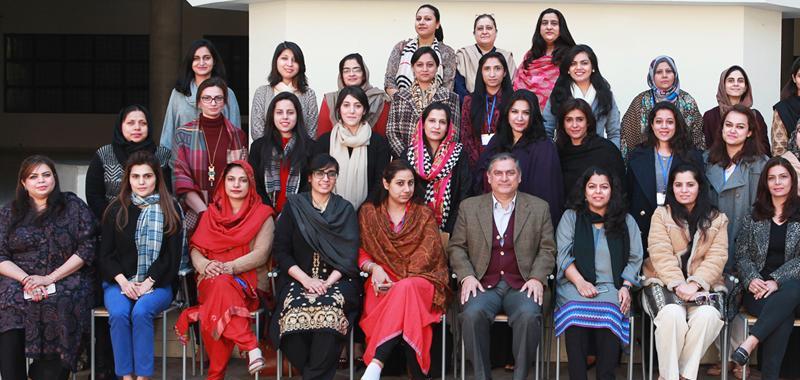 Pakistan Women Entrepreneurship Programme (PWEP) under the umbrella of Social Enterprise Development Centre (SEDC), LUMS, successfully concluded the second leadership and team building programme on December 17, 2015. The three day training programme, which started on December 15, was designed to provide women entrepreneurs with the tools, skills and frameworks needed to become more effective leaders.
PWEP is working to increase the capacity of Pakistani women entrepreneurs to create sustainable and scalable businesses. The programme is a joint initiative of the Lahore University of Management Sciences (LUMS) and American University (AU), Washington DC. It is supported by the US Department of State.
The training was lead by Dr. Arif N. Butt & Dr. Misbah Tanveer, and supported by Dr. Anwar Khurshid and Dr. Adnan Zahid. The training programme explored different leadership styles, negotiation techniques, team building frameworks, self-assessment mechanisms and how to effectively manage change. Ms. Saulat Salahuddin, CEO of Pronto Promo and Advisor to the US-Pakistan Women's Council joined the programme as a guest speaker and talked with the participants about the importance of multitasking and managing work-life balance.
The participants acknowledged the contributions of SEDC LUMS and American University (AU) to conduct such trainings for women entrepreneurs of Pakistan. The participants applauded the training programme as very well designed, comprehensive, and interactive. Ms. Falahat Imran, a participant of the training programme, shared that the programme has been a great learning opportunity and she has thoroughly enjoyed being a part of it.
Ms. Zoya Ishaq, another programme participant said, "The programme was beyond excellent and helped me figure out solutions to a lot of issues I was facing. I am highly motivated towards an improved performance in my entrepreneurial journey."