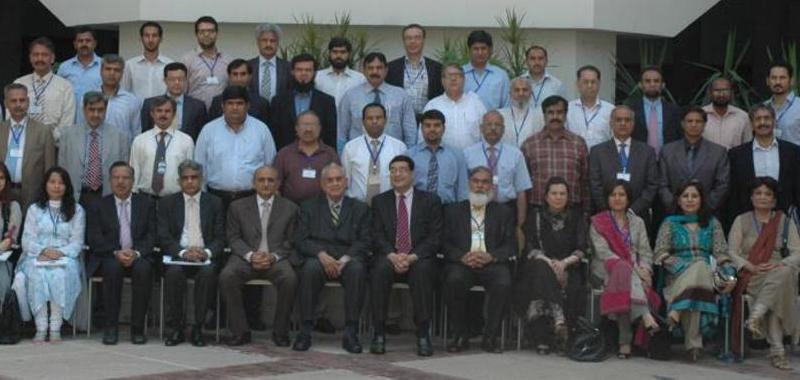 The Social Enterprise Development Centre at LUMS and Citi Pakistan have collaborated on a capacity building project. As part of this project, SEDC-LUMS in collaboration with Citi Foundation arranged a two-day workshop "Making higher Education more relevant for the Industry and Community" on September 21-22, aimed at analysing and corroborating the role of universities in socio-economic development through enhancing employability of their graduates.
The workshop is part of a one year project sponsored by Citi-Foundation and undertaken by LUMS SEDC. The main focus of the project is to understand how academic institutions in Pakistan are currently connected with the industry and community at large, and to identify ways in which the relevance of education being imparted at these institutions can be enhanced to enable them to develop young people to have a more positive socio-economic impact, especially in terms of increased earning potential.
Data collected from 19 universities of higher learning (consisting of public and private, focused technical institutions and more broad based universities) on how they are linked with the industry and community was shared during the workshop. Based on these findings the participants developed an agenda and action plan for their respective institutions to enhance relevance of their programmes and to achieve greater socio-economic impact by their graduates.
The workshop specifically explored four main dimensions of university-industry-community linkages: the role of industry-community in the governance of the academic institution to indicate what type of input is informing the strategic decisions of these institutions; involvement of industry and community in the designing of various programmes and their curriculum; role of industry and community in enhancing teaching and learning processes at these institutions; and lastly the manner in which the industry and community is contributing towards the mentoring, career guidance and job placement processes of the students at these institutions.
The two-day workshop was structured into eight sessions where each session had a new topic under discussion. The first session was chaired by LUMS Pro Chancellor, Syed Babar Ali for which Nadeem Lodhi, Managing Director (MD), Citi Bank Pakistan was the Guest of Honour. Other speakers included LUMS Vice Chancellor, Dr Adil Najam; Sohail Naqvi, Executive Director HEC Islamabad; Dr Sohail Qureshi, Dean, Syed Babar Ali School of Science and Engineering; Shahid Kardar, Former Governor, State Bank of Pakistan; Dr Anwar Khurshid; Dr Zahoor Hassan and Dr Adeel Zaffar.
Chairing the first session, Syed Babar Ali emphasised the need for greater integration of academic institutions with the industry and said that all three schools at LUMS are preparing young men and women to become leaders in their respective fields.
Sohail Naqvi and Professor Hina Tayyaba addressing the session on 'Role of Industry and Community in Governance of Higher Education Institutions, focused on how academic institutions must take greater input from the industry to augment the skills and capabilities of their graduates.
Dr. Zahoor Hassan, Faculty, LUMS Suleman Dawood School of Business accentuated the importance of involving industry at the level of governance and curriculum design. Dr. Sabiha Manzoor, VC, Lahore College for Women University focused on how the role of alumni and career placement offices needs to be developed to forge stronger linkages between the industry and the community. Dr Adil Najam also stressed on the role of alumni and need for graduates to take pride and ownership in the institutions from which they graduate.
The workshop attracted senior academic and industry leaders, who shared findings from the best practices field study along with the examples of the international best practices in that area. Representatives of renowned academic institutions such as IBA Karachi, IBA Sukkur, LUMS, NUST, NCA, UMT Lahore, GCU Lahore, UET Lahore, UET Taxilla, Institute of Business Management, PAK-KIET, FAST, PIFD, NTU, University of Agriculture Faisalabad and Fatima Jinnah Women University were among the distinguished panelists. CEOs, Directors and Advisors of Rozee.pk, LCCI, Infogistic and Maple Leaf Group were also among the key speakers. The participants of the workshop developed an agenda and action plan for their respective institution to enhance relevance of programmes and to attain better socio-economic impact by their graduates.
Appreciating the aim of organizing the workshop, Nisar Ahmed Siddiqui, Director, Sukkur IBA said, "I hope this initiative, by making access to knowledge and expertise more affordable, will eventually help in bridging the gap between the rich and the poor in Pakistan." Dr. A. R. Kausar, Pro-Rector, University of Management and Technology, Lahore also expressed this thoughts on the occasion and said that there is a need to develop a mutually beneficial relationship with industry and community to strengthen and revitalise values, learning, education, and social responsibility. Dr M. Khaleeq-ur-Rahman, Vice Chancellor, Government College University Lahore, was of the view that the establishment of different student societies at universities has been of primary significance as these effectively connect the community and industries by acting as a bridge between them.